Amazing place to stay! The room was clean and beautiful, breakfast was amazing. We highly recommend this place if you are visiting Flint, Michigan and we are looking forward to coming back. Thank you Diane and Allen for making us feel comfortable and we really loved staying here. And again, thanks for the amazing breakfast!!!
Wonderful place to stay in Flint! Absolutely adorable, generous hosts who drove me around the city. Diana is an amazing cook–they should open a restaurant in town. I was grateful to be here with them and look forward to coming back.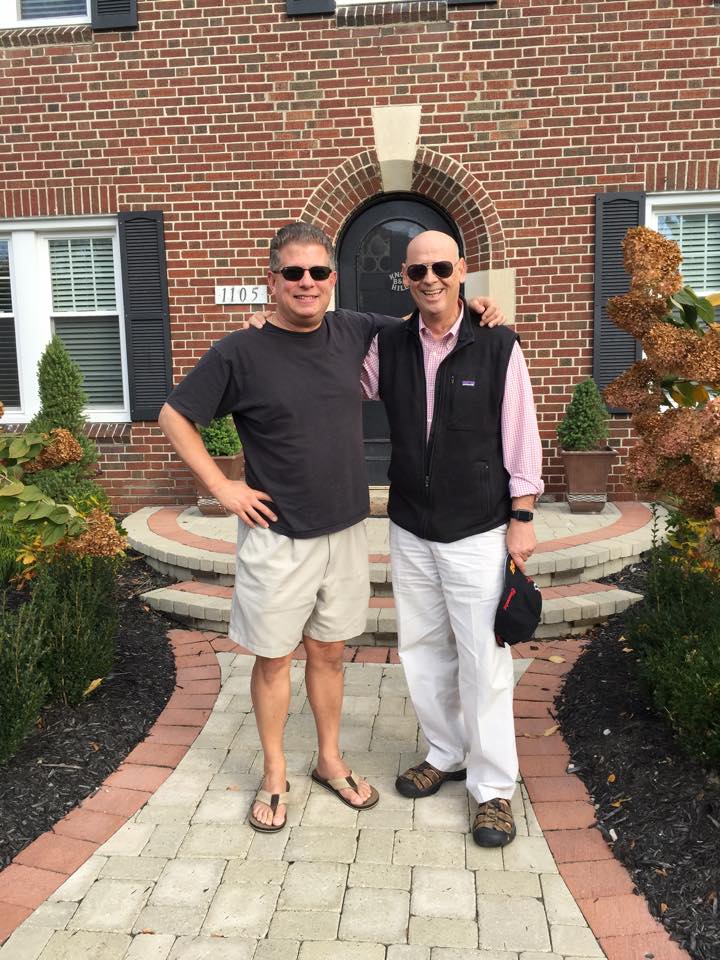 Room


Outstanding
Service


Outstanding
Value


Exceeded Expectations
Cleanliness


Outstanding
Food


Outstanding
I stayed this house with my colleagues for 1 night. All my colleagues were very surprised and satisfied with the cleanness and well organized arrangement. I really appreciate Allan and his wife. I myself and my team all enjoyed a lot that night. Additionally, I appreciate the early breakfast prepared for our team.
Great place, hospitable people — Diana and Allan, excellent breakfast. I recommend Knob Hill B & B as a much preferred alternative to a hotel.
Room


Outstanding
Service


Outstanding
Value


Outstanding
Cleanliness


Outstanding
Food


Outstanding
This was our first time staying at a bed and breakfast. Knob Hill is stunning. Diane is a fabulous hostess and has a unique and charming personality. We wish we could have met Allan from what Diane shared about him. Regardless, our stay was phenomenal! We will recommend Knob Hill to all our friends and family. The room was gorgeous and the breakfast so tasty and delicious. We will definitely consider staying at a bed and breakfast when we next stay overnight somewhere, we are just fearful that Knob Hill and Diane have spoiled us. We look forward to spending more time in the future at Knob Hill when we can. Thank you for such a pleasant and amazing experience.
You guys… Holy Crap this place is unreal!! It's gorgeous!!! In Flint too! Filming here for a Pilot as a Scripty! If you want to stay somewhere different and beautiful; stay here! P.S. Each room has a different theme and one of them is Alice in Wonderland! Go and like their page!
One of the nicest places I have ever been to! Good food, good company.
Great experience! The breakfast was outstanding!! And the owners were very kind and generous!
Such a beautiful inn. We were pampered and felt so welcome. Breakfast was amazing. They even went all out to make me a gluten free breakfast. If you want a memorable weekend, stay here!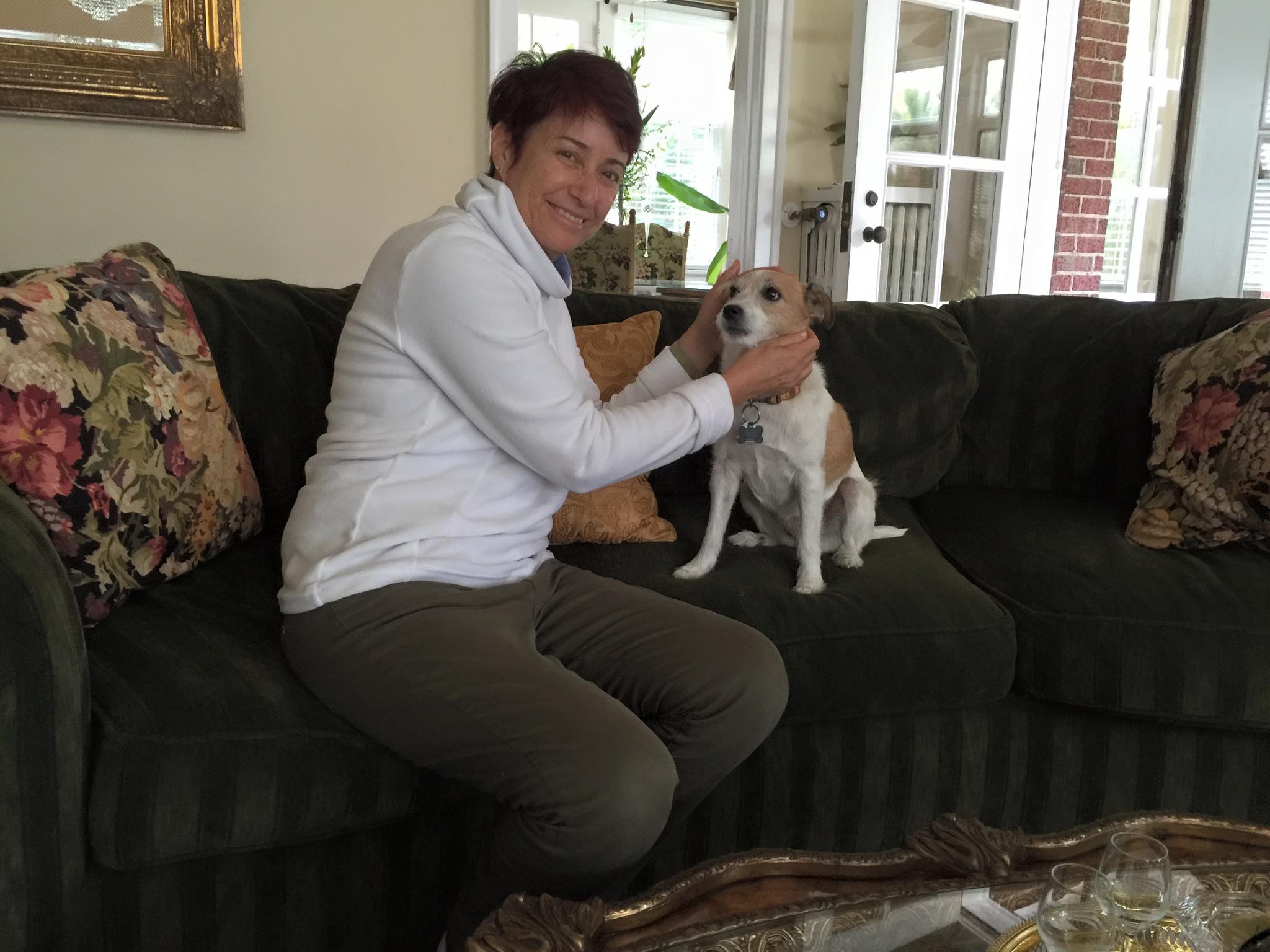 Knob Hill Bed and Breakfast is a beautiful place. Friends who are looking for a clean and comfortable place to stay should take a look at this gem. The friendly owners are very interesting! Allan and Diana Griggs have put so many interesting pieces throughout!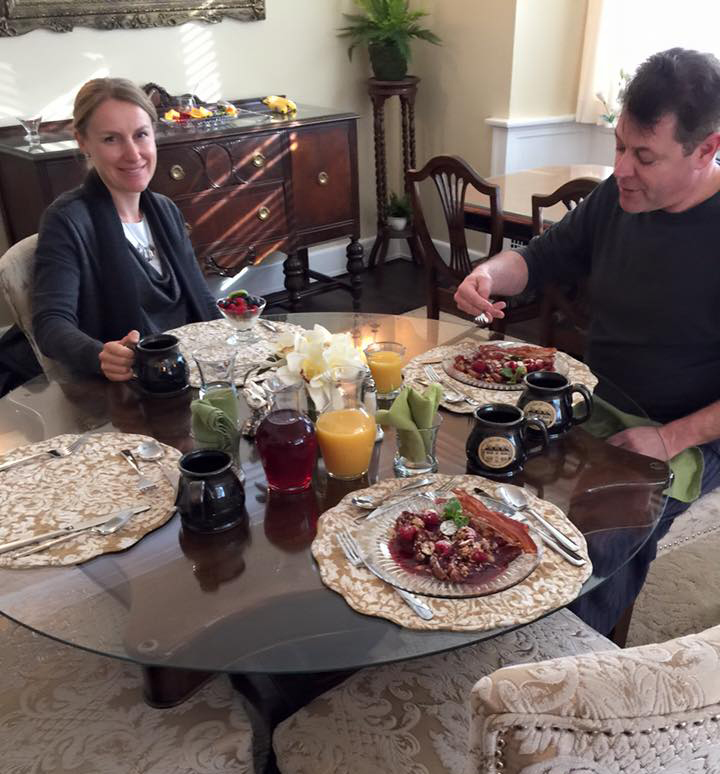 Great place to stay, VERY close to downtown and museums. Diana and Allan are great hosts, the food was great. Diana made delicious breakfast, even accommodating that I don't eat meat. The room was perfect, the bed comfortable and house beautiful. If I visit Flint overnight again, I will definitely try staying here.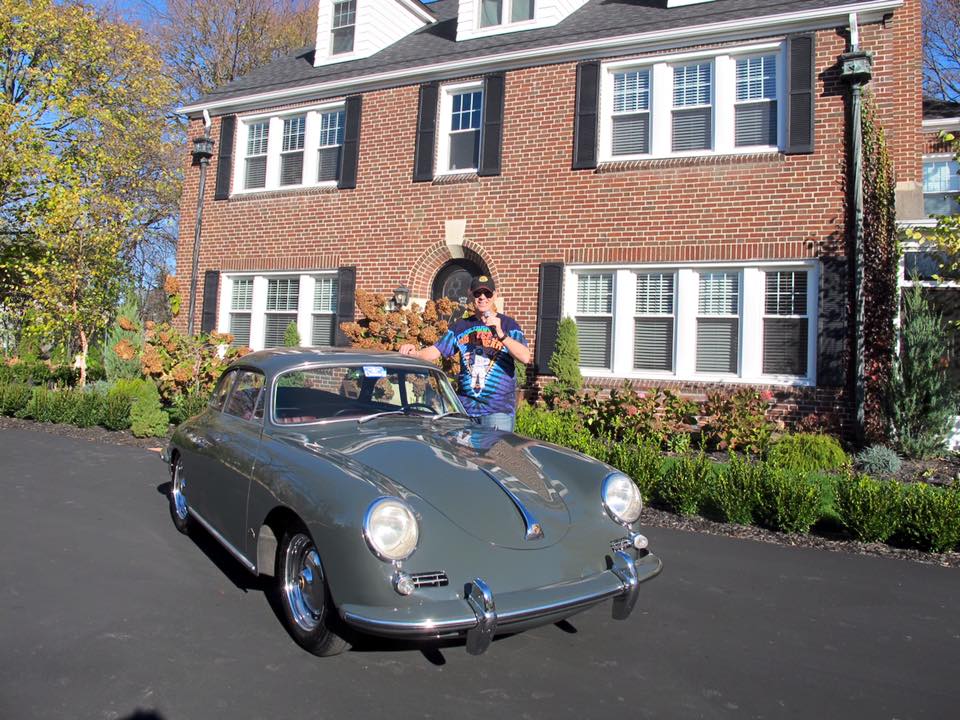 Room


Outstanding
Service


Outstanding
Value


Outstanding
Cleanliness


Outstanding
Food


Outstanding
I want to share that I had a wonderful stay at the Knob Hill B & B. Diana was a gracious hostess and saw to my every need. The B & B was so warm and homey, yet impeccably decorated. I loved staying in the Alice in Wonderland room, and slept like a log! She even went above and beyond the following day, after a lovely breakfast, by hand delivering my cell phone that I had left behind to the meeting I had in Flint.
Room


Outstanding
Service


Outstanding
Value


Outstanding
Cleanliness


Outstanding
Food


Outstanding
Our family had a wonderful time here. The breakfast was amazing (best breakfast ever!) and Diane and Allan really made us feel like we are at home. We are looking forward to coming back. Highly recommended if you are visiting Flint.
We were visiting the area for our granddaughter's graduation party. What a lovely stay we had. Time to rest from party preparations. The breakfasts were wonderful and we enjoyed our lovely Secret Garden room so much. Diana was a delightful hostess.
You are now part of treasured memories, after our wonderful stay at Knob Hill. It was so nice to be able to take part in what you're doing there. Everywhere you look you see something beautiful. We both thought it was so pleasant and so different than we've ever celebrated before. God willing, we'll be able to return someday. May you be blessed with great business and visitors who enjoy it as much as we did.
My daughter and her new husband (married Friday) stayed here on their wedding night and absolutely LOVED it! My daughter was sick on her wedding day, and Diana went above and beyond giving her OTC medication to help. They worked and by morning, she was feeling much better! I was just SO impressed with the quality service, that's an understatement… we practically made friends! We will DEFINITELY be recommending this facility and the kids are already planning on spending their one year anniversary here! Thank you so much Diana and Allan!
Flint doesn't have any 5 star hotels… actually, this city's best "Hotel" is the two and a half star Hampton Inn (on Hill Rd. south of the airport). But… lucky you… you've stumbled upon the "B&B" section and you have found the best gem in the city. You get "Five Star" service here in the ACTUAL center of everything. Go ahead… click on that map button to the right of this review (PC version of TA). You will notice just right of the map pin is downtown Flint… just a short three minute drive away. Now look to the West of the map. See Miller Road? That is where all of the shopping and best restaurants (other than downtown) are. Miller Road West will lead you to Genesee Valley (the best mall in the area). Now look to the South-West. Bishop airport is there. The airport is close but the major flight patterns don't come near this place (it is very quiet). Zoom in and look at the surrounding neighborhood (in the satellite view). This is Flint's nicest neighborhood filled with historic homes kept up immaculately. Look at the photos… these aren't Photoshopped. This place is really that beautiful. To get here by car, take I-69 to the Hammerberg exit. Drive North to the light. Turn right onto Miller Road then Turn Left onto South Drive and you are there. The hosts are among the best ones I have ever met at a bed and breakfast. The house is stunning. If you have been to the English Inn in Eaton Rapids, Mi. then you will equally love this house. Do you like to golf? Flint's best golf course (Swartz Creek) is almost a walk-able distance away, but driving there is much safer because Miller Road and Hammerberg Road are not pedestrian friendly. Room rates are comparable to the best hotels in Flint but you get so much more here…why pay $150. for a two and a half star room when you can get a five star room here for close to the same price. Remember… you get personal service and breakfast here as well. If I didn't actually live here in the city… this would be the place I would choose to stay.
Although I completed my survey online, I wanted to write to express the incredible experience I had at the Knob Hill Bed & Breakfast.
While your survey asked the best and the worst, it is impossible to pick one of the best and there was nothing that was "worse" — other than having to leave for my home. Who would have thought that a person living in a luxury condo in sunny Las Vegas would pine to remain in Flint, Michigan with weather touching on winter's door? Well that is exactly what transpired. For the first time in my life — and I have to travel extensively — I missed staying at my travel accommodation — Knob Hill. So, the worst part was having to leave. I've stayed at dozens of B & B's and this was by far the best one and best experience ever! Where would I even begin to start: The Internet.
When I learned that a business trip was putting me in Knob Hill, I was excited and afraid. I looked at their website and read every single page and looked at every picture. I thought to myself that if the establishment is only half as good as the images, I'd be okay. In many places the pictures do not match the place. With Knob Hill, the images on the internet were exactly what I found, if possible, even better.
Bed and Breakfast owners or managers are typically more friendly than a hotel, but owners Diana and Allan are above all others. They have an amazing intuition to understand when guests want interaction and when they want to be on their own. Although I've only known them since last Wednesday evening, I immediately felt as though I've known them my entire life. They listened intently and contributed significantly to a broad range of topics. One night the entire house was downstairs celebrating life and being social. I'm not one to engage in socialization with strangers, but Diana and Allan made every visitor feel like old friends. If I could do this in my practice, I'd be a hero and yet they do this with seemingly no effort at all. I even mentioned that I had never been to a hockey game and bashfully declined but later in the day decided "why not." I called Diana and asked if the offer stood and before you knew it I was having the time of my life rooting for the Flint Firebirds.
Every room in the home was immaculate and the bed was heaven! The breakfast was so delicious, and the snacks were healthy and delicious as well. Pampered is an understatement.
Your association is well served by having Diana and Allan as members and Knob Hill among your establishments. If I travel to a location in Michigan that is not within reasonable driving distance from Knob Hill, I will be looking at your association, assuming the caliber of B&B's are somewhat close to Knob Hill, as I don't expect anything could match the experience. Diana and Allan may have ruined all future visits to other places by their exemplary attention to detail, cleanliness, and hospitality.
Room


Outstanding
Service


Outstanding
Value


Outstanding
Cleanliness


Outstanding
Food


Outstanding
Steve and I loved everything about our stay. We felt like family and could of stayed for several days. Going back to Flint someday just to stay here again!
Room


Outstanding
Service


Outstanding
Value


Outstanding
Cleanliness


Outstanding
Food


Outstanding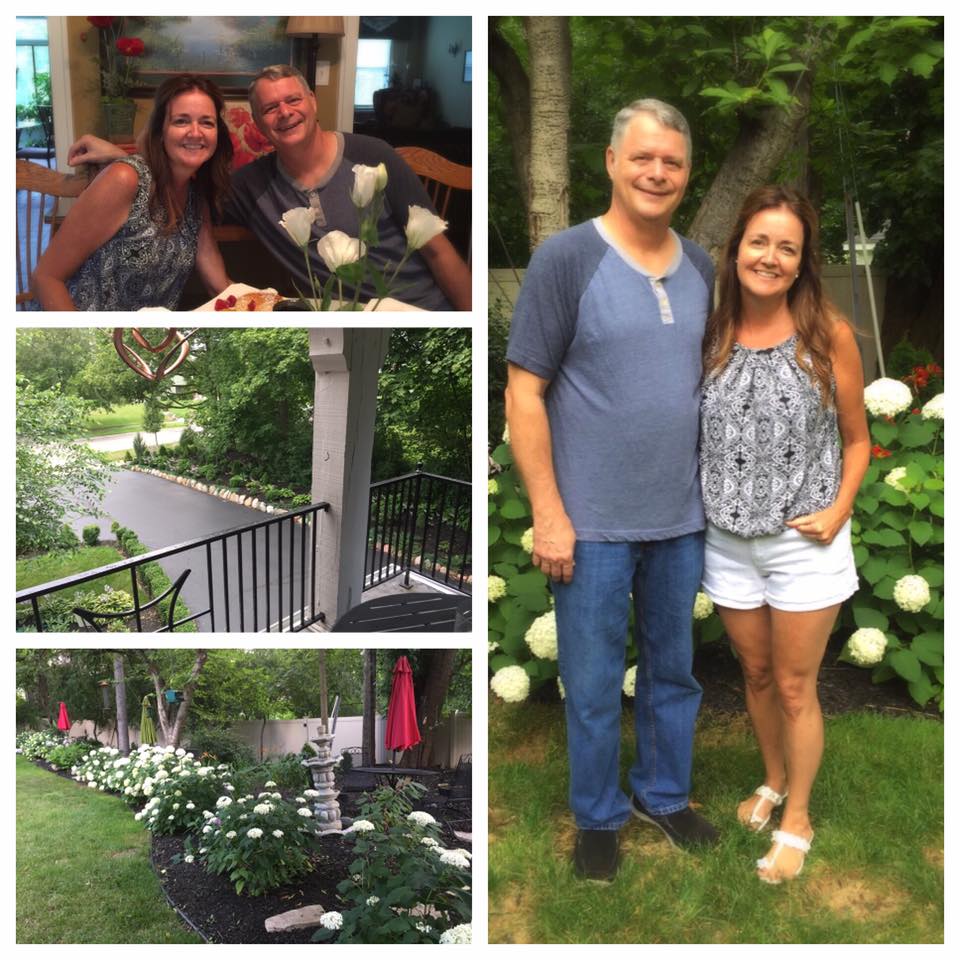 We had such a wonderful stay here at Knob Hill Bed & Breakfast! Outstanding hospitality! Beautiful gardens! Elegant décor! Gorgeous rooms! Delicious breakfast! Diana and Allan are so kind! Thank you for making our stay so special and relaxing! We highly recommend Knob Hill Bed & Breakfast for those who are looking for a very comfortable, hospitable, and beautiful place to stay!
Room

Outstanding
Service


Outstanding
Value


Outstanding
Cleanliness


Outstanding
Food


Outstanding
This was the perfect place for a mother daughter weekend. My daughter and I had the most wonderful time. Our host was fun and her food was amazing.
The hosts, Diana and Allan, were fantastic and the food and service was great!
Room


Met Expectations
Service


Exceeded Expectations
Value


Exceeded Expectations
Cleanliness


Outstanding
Food


Outstanding
We had a wonderful time staying at the Knob Hill during our 5 night visit to the Flint area. Diana was a generous hostess and great gourmet cook! She gave us some wonderful places to visit too which made our vacation even more enjoyable. We will definitely return to try out the more exotic rooms she has planned in the future. Thanks so much! 🙂
Room

Outstanding
Service


Outstanding
Value


Outstanding
Cleanliness


Outstanding
Food


Outstanding
It was wonderful. Had the whole place for family. It was my parents 50th anniversary. The entire family enjoyed their stay and the food was amazing. Wine in the evenings around the fireplace was such a joy. Everyone talked all night long!
Diana and Allan make you feel at home in a tucked away gem in the City of Flint. It is both cozy & elegant. Right down the road from Bricktown and 30 minutes from Birch Run where you can melt any credit card. Knob Hill is very quiet and a great place to get away and/or just unwind. Breakfast was superior! We will be back!
Diana made sure our short stay was special. We felt right at home and the soufflé with candied bacon she made for breakfast – talk about mouth watering! Happy to call Flint home with this beautiful establishment nearby.
Room

Outstanding
Service


Outstanding
Value


Outstanding
Cleanliness


Outstanding
Food


Outstanding
We had a wonderful stay there. Breakfast was delicious.
Room


Outstanding
Service


Outstanding
Value


Exceeded Expectations
Cleanliness


Outstanding
Food


Outstanding
Knob Hill Bed & Breakfast is an outstanding choice for lodging in Flint. From the generous hospitality (including a late-night pickup at the airport), to the elegant comfort of the bedroom and public areas, to a memorable gourmet breakfast, Knob Hill provided me with an excellent stay in every respect. The house and neighborhood are stately and beautiful, offering an interesting perspective on Flint's history as an affluent manufacturing center. I look forward to returning to Knob Hill, and highly recommend it!
Room


Outstanding
Service


Outstanding
Value


Outstanding
Cleanliness


Outstanding
Food


Outstanding
I do not think I will have enough room here to write this RAVE! To begin, Diana greeted us with a huge hug, a smile and a birthday surprise for me! She took it upon herself to upgrade our stay to the Arabian Knights Suite as a 50th birthday gift. We were speechless. Our breakfasts were absolutely fabulous, with that special homemade touch. Location was perfect, no more than 10 minutes from any of my family, which made staying away from them so much nicer. We enjoyed walking the neighborhood and visiting the Farmers Market as well as grabbing cocktails and coneys at the White Horse. We know that we will stay here again, and as HIGHLY as we recommend, I hope there are plenty of vacancies our next visit. Thank you Diana, you are an amazing hostess!
Loved it! Wonderful place, wonderful people!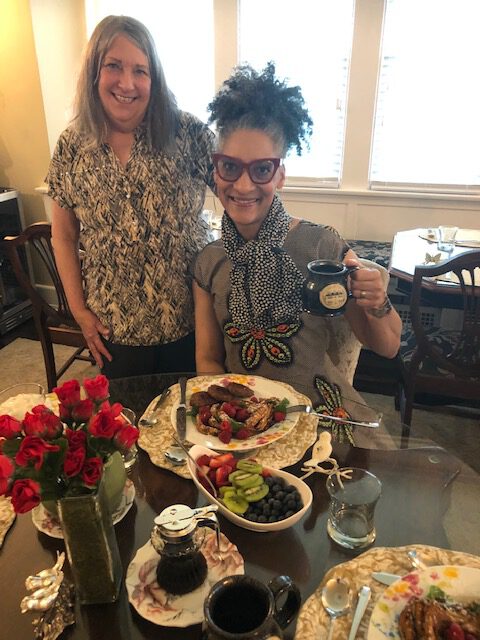 Diana and Al are such gracious hosts! This was our second time int the last two months that we stayed at their beautiful Bed and Breakfast Inn! The first time it was just my husband and I! The rooms are beautiful and peaceful! Diana makes an amazing breakfast!They go out of their way to make you feel at home! We were so impressed when we had to come back in town we invited our family to stay there! We stayed for two days! Trust us when we say this is the best bed and breakfast in Flint, MI. and surrounding area! Thank you Diana and Al!We will be back!
Thank you for making us feel at home!
Great hosts… the best! Food was yummy. Thanks for the relaxing stay!